Contract & Agreements (Civil Litigation)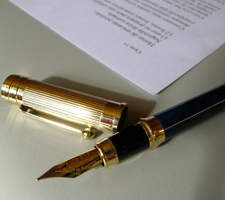 Contracts and agreements are critical to business owners and people buying or selling items or services— and a breach of contract can lead to costly delays that have a significant effect on finances. The lawyers at Tlusty, Kennedy & Dirks, S.C. can help central Wisconsinites manage these sophisticated transactions.
We represent and advise clients who want to clarify an agreement with another in writing, so that everyone involved is aware of the terms and requirements. These agreements can vary from simple contracts involving the sale/purchase of an item, to complex service oriented contracts that involve many steps and requirements from both parties.
If a situation arises where agreements are broken, or contracted terms are unclear or disputed, our lawyers will represent you in proving your position.
To schedule an appointment with our contract law attorneys, please fill out the form below or call 715-359-3188