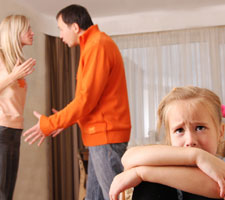 Traditional Divorce proceedings, also referred to as Contested Divorces, happen when couples cannot agree on the separation of marital property or placement of their children.
Contested Divorces tend to be adversarial, each party's lawyer fights on behalf of their client. A judge often decides the final outcome.
The central Wisconsin law offices of Tlusty, Kennedy & Glascock, S.C. provide divorce services for each unique family situation — be it mediation or litigation.
Simple, or complex, it's best to contact an attorney to help you resolve child custody and placement, visitation rights, child support, spousal support and the division of assets and debts. Why? Because the paperwork is extensive and complicated, and once an agreement is court-approved, it can be both difficult and expensive to modify.
How Does Tlusty, Kennedy & Glascock Help?
Our experienced divorce lawyers utilize in-depth knowledge of Wisconsin Family Law to protect the rights of you and your children. They simplify the legal jargon and present you with easy-to-understand options concerning:
Alimony (maintenance or spousal support)
Annulment, cohabitation breakups, collaborative divorce, divorce, legal separation and mediation
Child custody and placement
Child support
Child support enforcement and arrears
Divorce Mediation
Modification of court orders
Name Change
Property and debt division
Restraining Orders
We understand the divorce can take a toll on everyone involved, but we will do our best to help you reach a fair and equitable separation so you and your family can move forward with your lives.
For more information or to schedule an appointment to discuss divorce mediation with our family law attorneys, please fill out the form below or call 715-359-3188.