Divorce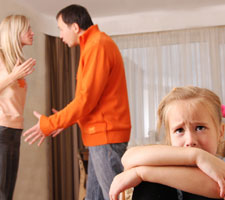 Traditional Divorce proceedings, also referred to as Contested Divorces, happen when couples cannot agree on the separation of marital property or placement of their children.
Contested Divorces tend to be adversarial, each party's lawyer fights on behalf of their client. A judge often decides the final outcome.
Due to their contentious nature, traditional divorces are extremely time consuming and very expensive. On average, in Marathon County, Wisconsin, Tlusty & Kennedy sees clients and their spouses each spend between $10,000 and $15,000. That's $20,000 – $30,000, on average, total per couple.
In addition to the monetary cost of the proceedings, the process takes a toll on everyone involved. Rarely, if ever, does either party feel satisfied with the process. Children, often bear the emotional scars of difficult separations.
Is there a Better Way?
Here at Tlusty & Kennedy, we think there is a better way. Our firm has made the decision focus exclusively on Divorce Mediation.
In its simplest form, Divorce Mediation helps separating couples that are still on talking terms negotiate the terms of their own divorce. Both parties must be willing to work together to move forward with the separation of their lives.
What does Divorce Mediation Require?
The ability to civilly communicate with your spouse about the divorce process.
You need to be close to an agreement regarding the separation of marital property, including assets & debt, child placement and if maintenance is necessary.
The willingness to give and take, fairly. It is better to work though divorce issues together than leave your fate to a judge.
Finally, understanding that the marriage is over, and that fighting isn't going to be healthy for you or your family, or your family's finances.
How Does Tlusty & Kennedy Help?
Our Pro Se Mediation Attorneys remain neutral and work with both parties to finalize a fair agreement. Additionally, we help ensure that all paperwork is properly completed to present to the judge.
If there are minor disagreements, our attorneys will review the issues and offer suggestions. With nearly a century of family law experience, we've seen what works and what doesn't work.
For more information or to schedule an appointment to discuss divorce mediation with our family law attorneys, please fill out the form below or call 715-359-3188.