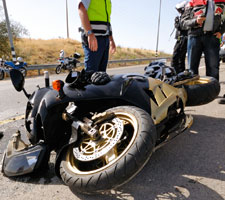 Central Wisconsin provides plenty of scenic roadways for motorcycle and moped enthusiasts. Unfortunately, motorcycle accidents can result in severe injuries, expensive medical bills and death. Don't let a motorcycle accident threaten your family's economic security — call the motorcycle injury attorneys at Tlusty, Kennedy & Glascock, S.C.
Our experienced attorneys will work hard to ensure your rights are protected and that you receive a fair and just settlement. It's critical you contact one of our personal injury attorneys immediately after a motorcycle or moped accident — and here's why:
Speak to a personal injury attorney before you speak to an insurance adjuster — adjusters are trained to ask questions that benefit the insurance company, not you.
Insurance companies will press you to make a recorded statement that may not be in your best interest.
Insurance companies' first settlement offers are designed to pressure you into settling early, before you are aware of the extent of any long-term injuries.
Our personal injury attorneys have many years of experience representing the rights of motorcycle accident victims and understand how insurance companies work.
Pursuing an insurance claim can be expensive, so our central Wisconsin personal injury firm covers the court and case-related expenses during your recovery period. Once a settlement is reached, we recoup our expenses.
Your first personal injury consultation is free.
Tlusty, Kennedy & Glascock, S.C. does not charge attorney fees unless you receive compensation.
To schedule an appointment with our personal injury attorneys, please fill out the form below or call 715-359-3188