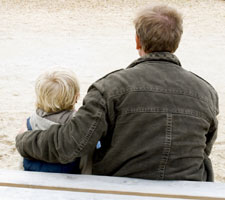 Paternity — the legal process by which the father of a child is established — protects the rights of both the child and the father, while ensuring the father meets his parental obligations. In Wisconsin, legal paternity provides a father with the following rights:
Father's name on the child's birth certificate
Have his child know he is the father
Consider the father's parental rights before child can be placed for adoption
Determination of legal custody and placement or visitation with the child
Paternity also protects a child's rights:
Child will know who his/her father is and be entitled to receive financial support from both parents until the age of 18 or until graduation from high school or an equivalent
Child will have rights to the father's social security, pension, veteran's benefits and inheritance
Child will have access to father's medical health history and may be enrolled in his or her father's health insurance plan
Our central Wisconsin law offices can help establish legal fatherhood by voluntary paternity acknowledgement, court ruling or by signing an Acknowledgement of Marital Child form. Tlusty, Kennedy & Glascock, S.C. also can advise you of your custody and placement rights and ensure a fair settlement of your child support obligations.
We protect the rights of people in Marathon, Wood, Portage, Lincoln, Taylor, Langlade, and Shawano counties.
To schedule an appointment with our family law attorneys, please fill out the form below or call 715-359-3188