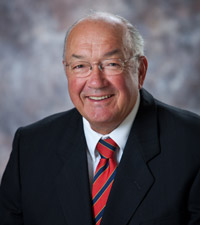 Jerome P. Tlusty was born in Medford, Wisconsin in 1943. He received a Bachelor of Science in Business Administration from Marquette University, and then received his Juris Doctorate degree from Marquette University Law School in 1969.
Shortly thereafter, he was admitted to the Wisconsin State Bar and the U.S. District Court for the Western District of Wisconsin.  Attorney Tlusty is a past president and current member of the Marathon County Bar Association, Wisconsin Bar Association, and is a former Assistant District Attorney for Marathon County, Wisconsin.  He is also a member of the American Trial Lawyers Association, the American Bar Association and the Wisconsin Association for Justice.  From 1989 to 2005, Attorney Tlusty served on the Board of Directors of the Wisconsin Academy of Trial Lawyers, now known as the Wisconsin Association for Justice.
Attorney Tlusty has over 40 years of experience and success in handling personal injuries, divorce, medical malpractice, wrongful deaths, and product liabilities cases. In 2014, Jerome Tlusty was granted Emeritus status by the Supreme Court of Wisconsin – Board of Bar Examiners.
Areas of Practice:
Car, Truck & Motorcycle Accidents
Personal Injury
Boating Accidents
Snowmobile Accidents
Dog Bites
Farm Injuries
Product Liability
Wrongful Death
Civil Litigation
Medical Negligence
To schedule an appointment with Jerome Tlusty, please fill out the form below or call 715-359-3188